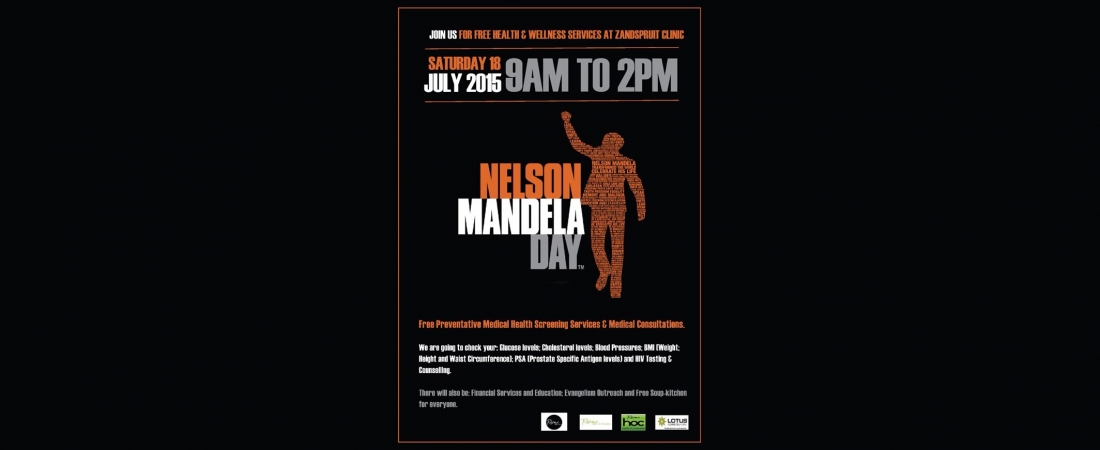 Mandela Day
JOHANNESBURG 18-07-2015: South Africans from all walks of life observed the 67 minutes of volunteerism on Nelson Mandela International Day. The day is more than a celebration of Madiba's life and legacy. It is a global movement to honour his life's work and act to make this a better world for all.
Rhema Bible Church, Hands of Compassion (HOC) in collaboration with Lotus Communications, initiated a Health and Wellness Screening event at the Zandspruit Community Clinic, which is situated at an informal settlement near Honeydew, under the leadership of Sister Hilleze Schreuder. The campaign was aimed at offering the much needed community interventions such as voluntary testing, especially to communities that have limited resources to afford proper health care, thus enabling them to make informed choices about their health.
Volunteer health-care and wellness professionals, including members of the church, offered their services. Approximately 500 people, ranging from all age groups, participated. A soup kitchen was run and blankets were donated to those who participated in the testing.
Activities also included the following:
Free Preventative Medical Health Screening Services & Medical Doctors Consultations.
Checking of Glucose levels, Cholesterol levels; Blood Pressures; BMI (Weight; Height and Waist Circumference); PSA (Prostate Specific Antigen levels) and HIV Testing & Counselling. Educational information will also be disseminated on eye care, oral health, cancer and various other health conditions.
Counsellors also provided HIV/AIDS education will also be imparted as part of our attempt to eradicate the stigma and discrimination against those that are affected or infected by the disease.
Financial Education and Debt Counselling.
Evangelism Outreach to the community.